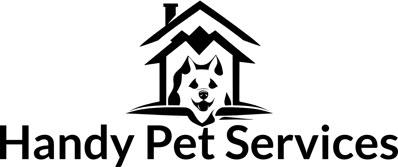 Terms and Conditions & Privacy Policy
Welcome to Handy Pet Services!
These terms and conditions outline the rules and regulations for the use of Handy Pet Services.
Booking, payment & cancellation policy
· A meet & greet is required for all new clients before a booking can be accepted.
· Stays during Bank Holidays, Christmas, New Year and Easter may incur additional fees, of which you will be advised at the time of booking.
· A deposit of 20% of the full cost of your dog's stay will be required to secure your booking. The remainder of the cost is to be paid on or before the start date of your dog's booking.
· Requested booking dates are not secured until 20% Deposit is paid. We are not able to keep booking dates open for any longer than 72 hours from the booking request without payment of the total fees or deposit.
· Dog walking, daycare services & visits to pets should be paid for on the day before the booking commences.
· Upon confirmation of a booking, you agree to provide a completed Registration Form, and its submission confirms the owner's acceptance of the Terms and Conditions. This is only required once for new clients but please remember to update us if anything changes.
· Payment can be made by bank transfer or cash
· Notice of cancellation given up to 7 days prior to the arrival date will receive a full refund. Any cancellations thereafter will receive a 50% refund. Alternatively, any fees paid can be held over for future bookings.
· If you wish to collect your dog before the confirmed end date of their stay you will not be entitled to a refund or partial refund.
· If Handy Pet Services is unable to provide the service agreed we will do our best to make alternative care arrangements, except in extreme, unforeseen circumstances where we will endeavour to give you as much notice as possible.
About your dog
· You agree to provide full, detailed and honest information in the Registration Form about your dog and to keep us informed of any changes.
· We cannot accept any breed of dog listed under the Dangerous Dogs Act 1991 and the Dangerous Wild Animals Act 1976 including Pit Bull Terrier, Japanese Tosa, Dogo Argentino, Fila Brasileiro and Wolf hybrids.
· We are unable to accept dogs who are aggressive, destructive, unruly, not fully house trained or have any known behavioural problems. Please be honest about any behavioural concerns. Failure to disclose something could put other dogs and people at serious risk.
· Should any dog show aggressive tendencies to people or other dogs, or behaviour which is beyond reasonable acceptance, you or your nominated emergency contact will be informed. We will place the dog in a separate area of the house away from any other dog guests until your dog is collected.
· You are responsible for all costs (including but not limited to medical care, legal fees, etc.) if your dog should attack, bite or injure another animal or person.
· We are unable to accept bitches who are, or due to be, in season during the boarding dates or for daycare.
· You are required to provide sufficient food for the duration of your dog's stay. If insufficient food is provided, we will aim to source additional food of the same type or similar for which you agree to reimburse the costs.
· You are responsible to provide a secure collar or harness and lead. You agree for us to attach our own ID tag to your dog's collar, harness or lead for the duration of the stay.
Health & medications
· All dogs must be up to date with their vaccinations and you must provide a copy of your dog's valid vaccination record prior to boarding. Any new vaccinations must have been given at least 4 weeks prior to the arrival date of boarding.
· All dogs must be on regular worming, tick and flea treatments. In the event of tick or flea infestation your dog will be treated and you agree to reimburse any costs.
· Dogs must be in good general health and show no signs of contagious illness on the arrival date.
· Any medications will be administered strictly as directed but we cannot be held responsible for any complications that may arise as a result.
· You are required to give your Consent for your dog to receive first aid from us (including emergency CPR), should your dog fall ill or have an emergency while in our care.
· You must provide the name and contact number of someone authorised to make a decision on your behalf about your dog in an emergency, in the event we are unable to make contact with you first. We will always endeavour to take your dog to its usual vet, however, depending on the circumstances, we may need to go to the nearest one available. You agree that you are responsible for any veterinary fees incurred during the stay and these must be reimbursed when you collect your dog at the end of the stay.
Unforeseen costs
· You agree to be responsible for any reasonable costs incurred, including payment for any damage caused, vet fees and any additional food required. These must be paid on collection of your dog.
· You are encouraged to bring your dog's bed, blankets, food bowls and toys and any other familiar belongings which will make them feel comfortable, however we cannot be held responsible for any damage to or loss of these items.
Insurance & License
· Our £5m Public Liability insurance is with Your Insurance and details of the policy schedule can be seen on request. We also recommend that your dog has its own insurance for sickness, accident or injury prior to boarding.
· We are licensed for home dog boarding & daycare by Canterbury City Council and a copy of the license can be seen on request.
· We are DBS checked and the certificate can be seen on request.
· Animal care and Canine first aid certificates can be seen on request.
Photography
· In order to receive the updates you agree to your dog being photographed during the stay. Ownership and copyright of the photos and videos remain with Handy Pet Services and may be used on our website, in marketing materials or shared on our social media.
· Should you wish for your dog's photo not to be used in this way, please inform us on your registration form.
Privacy policy: personal information about you and your dog
· The General Data Protection Regulation (GDPR), enforced from May 25th, 2018, aims to protect the fundamental right to privacy and the protection of personal data of European Union (EU) citizens. We take your right to privacy seriously and provide this privacy policy for transparency in how we collect, store and use your personal information.
· All the information you share about you and your dog on the Registration Form is not only a legal condition of the boarding license, but also essential to provide the best care of your dog during the stay. All information provided will be kept private and confidential.
This information will include, your name, your address, your mobile and home telephone numbers, your email address, your dog's details and your vet's details.
· We use this information to conduct business with you, for paper record keeping and for the purposes of our licence.
Your information is stored for the length of time we consider you an active client, and for a period of 7 years following the termination of business between us. This period is determined by HMRC who request that business records are retained for this period.
All information is stored securely and the only ones who have access is the owner of Handy Pet Services and an inspecting officer from Canterbury City Council.
Privacy policy: website
· We receive, collect and store any information you enter on our website through the 'Contact Us' page or provide us in any other way, eg. by enquiry email or phone call. This includes personally identifiable information in the form of your name, email address, phone number and your enquiry message.
· This information will be used to reply to your enquiry and stored on our client database for future communications for the following purposes:
1. To provide and operate the Services (eg. response to enquiries, booking confirmations, requests for payment, requests for reviews etc.);
2. To provide our Users with ongoing customer assistance (eg. assistance with or about a booking, arrangements for drop off/collection etc.);
3. To comply with any applicable laws and regulations (eg. any changes to your personal information, updates to your dog's vaccination record etc.).
· Our website is hosted on the Hostinger.com platform. It provides us with the online platform that allows us to Promote our services to you. Your data may be stored through Hostinger.com data storage, on secure servers behind a firewall.
If you don't want us to process or store your data anymore, or if you would like to access, correct, amend or delete any personal information we have about you please contact us at Handypairpetservices@outlook.com